Yachting the Caribbean
03/24/2024 - 03/31/2024
Hosted by Highlands Ranch Travel
Join us next Spring as we sail from Philipsburg to St. John's aboard the luxurious SeaDream II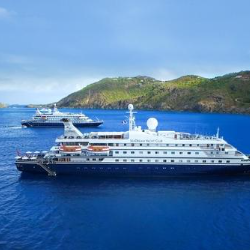 The British Virgin Islands meet the French West Indies on a journey of exceptional exploration. From Dutch-infused Sint Maarten, sail into the Virgin Gorda's Spanish Town, your gateway to The Baths, a geologic wonder made of awe-inspiring boulders that form sheltered sea pools on the beach's edge, and Leverick Bay, located on the shores of a magnificent blue lagoon. Discover the white-sand beaches and unspoiled nature of Beef Island's Trellis Bay, perfect for kayaking, snorkeling, and diving. Relax at Jost van Dyke's pristine White Bay and explore the hidden bays and water-level caves of Norman Island. Take in the awe-inspiring coral reefs and private beaches of Anguilla's Sandy Ground before overnighting in chic St. Barths, the jetsetter's Caribbean playground. A day spent unwinding at the refined Chrishi Beach Club in Nevis brings your itinerary to its delightful conclusion before disembarking in St. John's, Antigua's lively capital.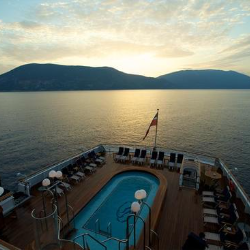 Departure Date: 3/24/2024
---
Destination: Philipsburg, Sint Maarten to St. John's, Antigua
---
Number of Nights: 7
---
Fare includes ocean view accomodations, all gourmet meals, wine with lunch and dinner, open bar with select premium brands, gratuities, ise of water toys from the yacht's marina, mountain bikes, golf simulator and more.
---
Exclusive Fares now from
Yacht Club Deck 4 $3,499 USD* per person
Yacht Club Deck 3 $3,299 USD* per person
Yacht Club Deck 2 $3,099 USD* per person
---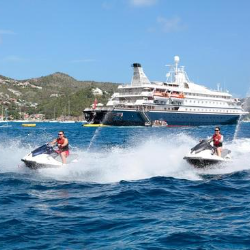 SeaDream II
Named "Best Small Luxury Cruise Ship of 2015" in ForbesLife, twin mega-yachts SeaDream I & II are intimate boutique ships that provide a unique travelling experience unlike any other cruise vacation. The expression "yachting" is not only a statement about size; it's a lifestyle aboard our intimate vessels with the service of 95 crew members and 112 guests that make each guest feel like they are on their very own private luxury yacht. Chic and stylish, SeaDream's 56-stateroom yachts are favored for its elegant informality, highly personal service, inclusive open bar and gratuities, all ocean views staterooms and suites, luxury accommodations and world-class cuisine.