About Us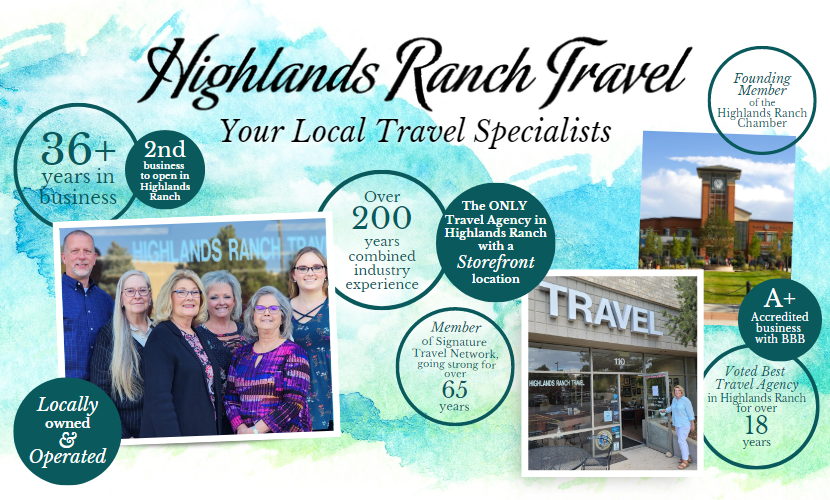 As a full-service travel agency, the staff at Highlands Ranch Travel are here to craft exceptional travel experiences that always exceed expectations.
You can call, email, come in and sit down and enjoy a cup of coffee while you visit with our office dog, Bella, and discuss your many travel options. Our highly educated staff, with over 200 years of combined experience, is committed to bringing you the highest standard of excellence in travel.
Our extensive study and commitment to personal travel enable us to offer you a uniquely high level of customer service. We believe education and travel are important aspects of a travel advisor. Keeping abreast of travel trends makes us valuable resources for our clients. In many situations we are not only travel advisors- we are concierges, offering information on restaurants, shopping, sightseeing, museums, and even where to find the best gelato in Rome! With our extensive travels, we all have "favorites" that we love to pass along.
We have several Certified Travel Counselors on staff; these certified travel professionals provide in-depth destination knowledge, industry experience, and top-notch customer service. This designation is the equivalent to a Masters Degree within the travel industry. And as members of The Travel Institute, we provide a personal link to cruise lines, airlines, car rental companies, hotels, and tour companies to ensure your satisfaction.
We are a proud member of Signature Travel Network. Our highly regarded organization has been in business for over 65 years and brings together over 7,000 experienced travel advisors collectively generating sales inexcess of eight billion dollars. The buying power is leveraged to deliver the best value for our clients. Our network shares one objective: to serve the unique needs of savvy travelers like you.
We can create your ultimate travel experiences!
Cruise Privileges

Reserve your cruise with us and enjoy exclusive benefits on thousands of voyages such as exclusive savings, upgrades, shipboard credits, pre-paid gratuities, complimentary shore events, and much more. Luxury cruise clients enjoy complimentary car and driver shore experiences in exotic ports around the world.

Land Vacations

Discover the world from Asia to Antarctica. Our travel advisors are knowledgeable and can provide personal insights that reflect your individual needs. Talk with our travel advisors who have visited the places you want to visit. We can save you time, answer your questions, and help you select your perfect vacation.

Signature Hotels

Reserve your next hotel stay at one of our partner hotels and resorts worldwide and receive valuable benefits such as breakfast for two daily, a dining or resort credit, spa credits, complimentary round of golf, airport transfers, in-room gifts and welcome amenities, VIP welcome and more. Benefits vary by property.
Please use our website to learn more about the travel options open to you, review our staff list to find an agent who specializes in your area of interest, and give us a call at 303-791-2311 or 1-800-275-4669.
---
Why Work with a Travel Advisor?
Your Passion for Travel is Our Inspiration
Insider Access

Enjoy VIP moments with our global insider connections, allowing you to access
the world like never before. As a proud member of Signature Travel Network,
we have access to exclusive privileges and benefits with more than 975 hotels &
resorts and with a wide variety of cruise lines and tour companies.

Expert Insights

We provide expertise from experience. Through our 200 years of combined
experience in the travel industry and our extensive firsthand destination knowledge,
your ultimate travel dreams are met every step of the way.

Personalization

With our personal relationships with local guides, global hotels, and leading cruise
lines, we have the ability to completely customize your trip into a truly a
one-of-a-kind journey, curated just for you.

Exceptional Value

Your travel options are vast. We provide recommendations, explain the differences,
and offer exclusive benefits to maximize your travel time and dollar.

Travel with Confidence

We are your travel advocates. Enjoy peace of mind knowing that we'll handle all
the important details from start to finish, so you can relax and enjoy the magical
moments of your vacation.
Our Staff
Owner
Manager
Travel Advisors
Admin Staff
Independent Contractors