About Us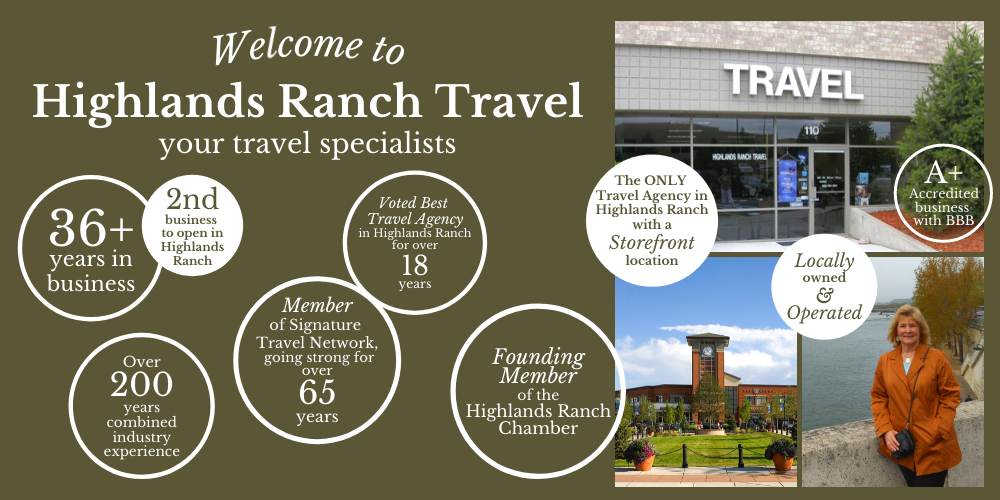 Highlands Ranch Travel was established in 1985. We are here to create your Dream Travel Experience.
As a full service agency you can call, email, come in and sit down and enjoy a cup of coffee while you visit with our office dog Bella and discuss your many travel options. Our highly educated staff, with over 100 years of combined experience, is committed to bringing you the highest standard of excellence in travel.
Our extensive study and commitment to personal travel enables us to offer you a uniquely high level of customer service. We believe education and travel are important aspects of a "good" travel consultant. Keeping abreast of travel trends makes us valuable resources for our clients. In many situations we are not only travel counselors we are concierges, offering information on restaurants, shopping, sightseeing, museums and even where to find the best gelato in Rome! With our extensive travels, we all have "favorites" that we love to pass along.
Company Information
We have several Certified Travel Consultants on staff; these certified travel professionals provide in-depth destination knowledge, industry experience, and top-notch customer service. This designation is the equivalent to a Masters Degree within the travel industry. And as members of The Travel Institute we provide a personal link to cruise lines, airlines, car rental companies, hotels, and tour companies to ensure your satisfaction.
If you are a traveler who wants to see the world independently, our staff can design the perfect trip and make your dream vacation a reality. We have worked hard to establish relationships with travel providers in several countries whom we believe will do their best to make your trip a once-in-a-lifetime experience. We can provide private guides and drivers, restaurant recommendations and reservations, museum passes, theater and concert tickets, and info on the best shopping spots abroad or in the U.S. We have the resources to take care of the details for you.
For those who want security and peace of mind we have a vast array of escorted tour packages through specialized vendors. We also offer our group departures, created with your personal enjoyment in mind. These tours are quality innovative tours that promote excellence and flexibility at prices that fit your budget.
Please use our website to learn more about the travel options open to you, review our staff list to find an agent who specializes in your area of interest, and give us a call at 303-791-2311 or 1-800-275-4669.
Our Staff
Owners
Managers
Travel Specialists
Supporting Staff
Independent Agents